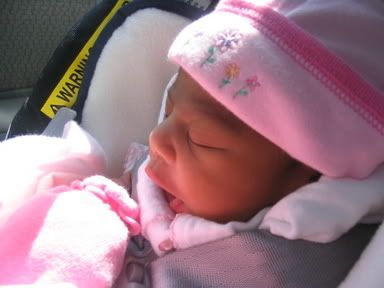 This will be written for the generation to come, That a people yet to be created may praise the LORD. Psalm 102:18.

Hi there all,

Selena and her mom came home today and everyone is well. God has been so good to our family. Throughout the years, He has been the giver of many blessings to my husband and me and this comes close to beating them all. We have been so thankful for our two lovely daughters, and then for our dear son in law and now for this, at long last, a precious grandchild. My book, Bright Gems for His Crown, was initially written in 2001 and when it was redone in 2003 the dedication was written: "This book is dedicated to my grandchildren who have not yet come.", with the above verse being given.

Now that this generation has come to our family, I don't suppose I need to tell you that it's my prayer that this little one, now created, will indeed be a girl and a woman who will at some point in time truly be one who will praise the Lord. Pray for her, please, all of you who know the Lord. Pray that the day will come when she will know Jesus. I am even praying that when she reaches adulthood, she will look back and not remember a day when she did not love Him. Maybe He will grant us that request. Maybe it will take longer, but whatever happens, for as long as we can, her PopPop and Nanna will be there to help. Pray for us please. I know that all of you believing grandparents who happen to read this will know exactly what I mean. And bless all of you too, who are desiring the same thing.