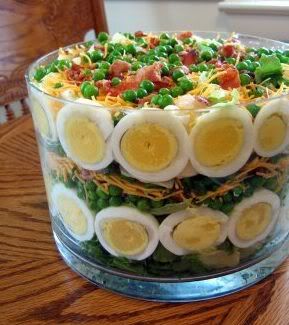 Doesn't this salad look scrumptious? (By the way, I didn't make it.) This would do me for a whole meal! Do you like peas in your salad? I do. In fact, I love peas and/or corn in salads.

There is something I've been wondering about for a while now: What salad dressing is most popular? I wonder what dressing do waitresses get the highest call for. Anybody know that statistic? What's your favorite? Mine is ranch. Sure would love to have a bowl of this salad with some ranch dressing right now. Yum.

Lately I've been eating salad almost every day, especially because of the need to shed a few pounds. It's good for a lot of what ails us, especially as a precursor for dinner, because I really do think it helps to keep us from stuffing ourselves on the main meal. I would venture a guess that salad is one of the most popular dishes in America and I would also say that it deserves that distinction. So, which is your favorite salad dressing? Do any of you make your own from scratch? I've tried that in the past, but have gotten away from it these days, even though I'm sure it would be better to have one less processed food item in our pantry. Oh, I thought I would mention also that I try to eat the light version of the ranch.